Commercial Roofing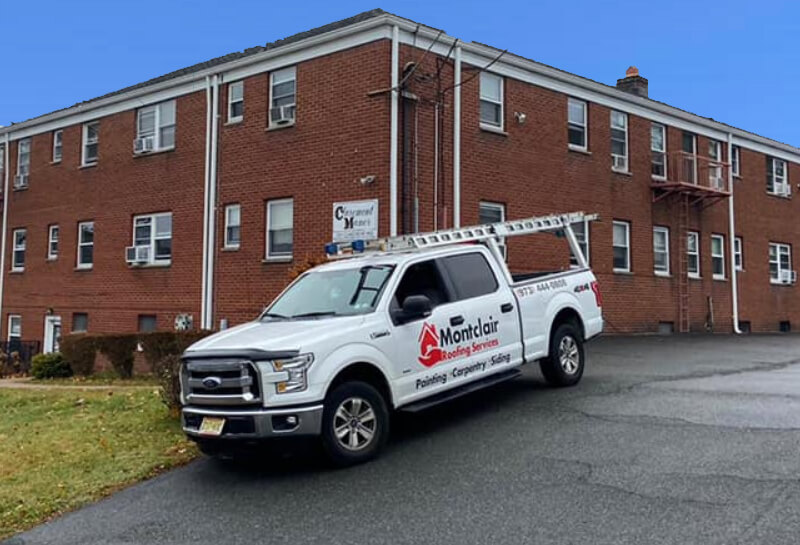 With over a decade of experience, Alex and his expert team offer top-notch commercial roof installation and repair services. Montclair Roofing understands how essential it is for your business to have a properly installed, high-quality roof. Using the highest quality of raw materials, Montclair Roofing impeccably installs and repairs both flat and asphalt roofs.
As one of New Jersey's top rated roofing companies, Montclair Roofing thoroughly examines your commercial roof before diving into any project. During this inspection, Alex will identify whether your roof has any damages or underlying issues. This examination helps guide clients in their decision of which roof to have installed. Additionally through this inspection, Alex will measure how long the project will take and will give you a TRUE estimate, meaning that the initial estimate he gives you will be the exact amount you pay in the end.
Roof Installation
Montclair Roofing specializes in installing both asphalt and flat roofs. However, when it comes to roofing options, business owners tend to choose flat roofs over asphalt roofs. When installed with top-notch raw materials, flat roofs are extremely long-lasting and wind resistant. Since they have minimal slopes, flat roofs are accessible and very easy to maintain. Montclair Roofing's commercial clients rave about flat roofs because they are also convenient hiding spots for eyesore equipment, like HVAC units. On the other hand, some business owners prefer asphalt shingles because they are more aesthetically pleasing. Depending on your personal preference, Alex and his team can flawlessly install either type of roof on your commercial property.
Roof Repair
Regardless of the kind of roof your business already has, Montclair Roofing can repair any damages that it endures. Roof leaks can result in mold and serious damage in your business, so it is urgent to address your roof damage right away. One of Alex's main reasons for recommending flat roofs to commercial clients is because flat roofs have minimal slopes, meaning they have fewer complications when repairing. Therefore, repairing a flat roof is very affordable and has lower maintenance costs. When it comes to roof repair, Montclair Roofing is known for its unparalleled reliability and dependability!
Why Montclair Roofing Guarantees Every Roof
Known for delivering top-notch services for the best value, Montclair Roofing is one of NJ's highest rated roofing companies. If you are looking for a roofing company to install or repair your commercial roof, then put your project in the right hands! Contact us at 973-444-0808 or email us.